Last updated on October 24th, 2023 at 09:00 pm
---
Having professional website graphics is an important part of your digital marketing strategy.
A well-designed, easy-to-navigate, and modern website is one of the best ways to drive leads to a business. Remember that a poorly designed website drives away potential customers and, in the process, makes them seek out alternatives. Therefore, you must have a professionally designed website that entices customers so that you can get additional business conversions.
Whether you are an amateur or experienced web designer, here are essential tips to make website graphics seem professional.
Keep Things Simple
One of the common mistakes made by designers is cluttering the graphics. Although you might have countless ideas that you wish to implement, doing so could be one way of making your web graphics seem unprofessional. All professional designers recognize that simplicity is vital.
If you assess some of the world's renowned brand websites, such as Apple, you will note that they use minimal colors, striking images, and simple fonts. Now that simplicity works for multinational brands, why should it not work for you?
Ask yourself if the content you wish to add to the graphics is necessary. For instance, you can use a photo background remover to edit images to appear professional.
One of the new kids on the block for photo editing, Colorcinch, has their own background remover tool along with a bunch of others you can use for free & their paid plan has a ton of additional features.
Another great background remover tool called BG Remover is also popular and produces high-quality results.
Use the Right Font
Fonts can make or break your website's appearance. Visitors will undoubtedly disappear if you choose an ugly font that makes your site appear amateurish. As you design, you can experiment with a couple of fonts, and the good thing is that you are not mandated to stick to the standard fonts.
However, it would help if you didn't go overboard by picking unusual fonts. Always use smart combinations. You can search online for the best font combination to avoid making mistakes.
Coordinate Your Colors
Learning more about color combinations comes in handy in making your site look professional. If you don't want to make any mistakes on your graphics, it is sensible to use premade color combinations.
Use High-Quality Photos
Photos are crucial aspects of all websites. It is advisable to hire a professional photographer to capture photos on your behalf if you don't have the necessary skills. Otherwise, you can utilize stock images available on various stock image sites for free or for a few dollars.
However, stock images are not unique, and there are chances other businesses might have the same pictures on their web pages. You'll find that stock images from paid image sites will be more unique.
Consider Mobile Users
If you assess your web analytics, you might notice that more than half of the visitors access the site via mobile phones. Indeed, statistics show that about 55% of global online visits come from mobile phones. Therefore, it would help to create a mobile-friendly website to draw more traffic.
Besides being mobile-friendly, the website should be responsive. But how can you make the site much more responsive for mobile users? Well, you can achieve this objective by using pictures that load fast, considering the navigation steps, and shortening paragraphs.
The Final Words
The internet has plenty of recommendations and suggestions about web design elements. However, most designers have contradictory views regarding how a website should appear because user experience and web design are subjective to a certain extent. What pleases you might not please another person. Luckily, the tips mentioned above are endorsed by experts.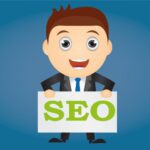 I'm a lover of all things technology. My favorite topics to write about are web design, SEO, and business marketing.