Last updated on November 27th, 2023 at 10:32 pm
---
Small businesses have some uphill battles when it comes to competing online, but it's not all bad news if you follow the basics.
Image by Gerd Altmann on Pixabay
Small businesses often think they're going to have a rough time online, as it means they don't just compete with big businesses locally, but on the gargantuan land of the internet. However, many small businesses overestimate the difficulties they will face when putting their company online. They don't actually need too much to get off the ground. Here are 5 essential features to get a small business website started.
A Clear About Page
If you're a small business, you're competing with potentially larger brands that will be more well-known than you are. This makes fighting their brand a little difficult, but you're also in a place of advantage because you can make a good first impression. You should do this with a high-quality About page.
Make a clear description of who you are, what you sell and what you want to do for your customers. Make sure your name and product nature are there on the home page, as well as a reassurance that visitors have found what they're looking for.
An Intuitive Sitemap
It can be tempting to feel that your site works well because you know how to use it, but as everybody is slightly different, designing a site to work intuitively is quite difficult. You need to be sure that you have clearly laid out the pages on your site so that it's almost impossible for a visitor to get lost.
The only way to really ensure that your site does this for the majority of people is with testing, which is typically done by an outsourced expert like Digivante. Having good testing means that you can be assured that your site is designed in a way that maximizes security, conversion rates, and at the end of the day – profit.
Testimonials
This is a big deal due to the powerful nature of social proof. Putting honest and genuine comments from real people help to make the products and services you make seem more understandable. This allows visitors to get a better feel of how your company can help their very real problems.
Everybody loves a story, and testimonials serve the benefit of showing other visitors the positives and negatives of your service, as well as helping you to keep improving your business and increase the value that you offer your customers.
Content
The content of a website is a big player in the fight to make a good first impression. It is imperative that you don't muddy your brand with an off-topic blog that doesn't give customers what they're looking for, just so you can drive your SEO. You want to provide content that causes customers not to question whether they'd come back to your site.
Everybody that visits a website is looking for something. Make sure you give it to them in an original, concise and creative way. Keeping content coming makes your website seem fresh and active and allows your customers to put trust in you, as it increases your expertise as well as the value you convey.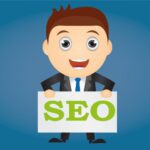 I'm a lover of all things technology. My favorite topics to write about are web design, SEO, and business marketing.