Last updated on September 14th, 2022 at 09:51 pm
---
SEO can be a springboard for expansion of your business into new countries.
SEO is now the most practical and economical approach for businesses to connect with their targeted consumers. Almost all brands and companies are taking SEO services seriously and SEO has become more competitive than ever before.
Since more and more consumers have begun moving in droves to online shopping, conventional businesses have to speed up their transition to the digital world. SEO became much more essential this year than ever before.
There is a tremendous amount competition in content marketing, link building is already challenging (and less effective than it used to be). Even with high-quality and original content, it's getting more and more difficult to outrank one's competitors.
You must have a new and innovative product that is in high-demand.
At the moment, the potential of the international SEO sector is almost unrealized which is a hope for businesses planning to expand in new markets. Most companies have developed their SEO around English-speakers readers in the US and UK. This leaves other areas of the globe virtually untouched.
Good SEO will increase a website's overall search engine visibility and exposure, but there are other additional benefits. If you are planning to tap the international market, the following are the best practices to position your business well in international SEO.
Conduct An Analysis Of Your Current Organic Reach On The International Market
Analyze your organic SEO reach to see where you're currently getting results before attempting to successfully develop your SEO approach to a new market abroad. You may already be ranking in a different country without realizing it.
Additionally, you'll want to make sure your business is prepared to enter the international market. Ensuring that your business already has the tools in place to sell internationally is paramount.
But have you researched the SEO competition in that particular international market? Researching the market in-depth is essential before developing your business. You should review your website SEO stats to see what kinds of customers landing on your web pages. Also, make sure they meet the criteria for the targeted audience.
Make Your SEO Powerful By Setting Up Hreflang Attributes
Hreflang informs Google of the language that your website is written in. Search engines provide the appropriate page to the user by using the hreflang attributes. The language and geographical area for the content intended are both specified by the hreflang parameter.
The use of hreflang tags makes SEO stronger as it helps prevent duplicate content issues. It also ensures that visitors from different regions view the intended version of your website.
Consider Keyword Differences Across International Markets
The keywords and their search volume vary from nation to nation. So, when a major company website is entering a foreign market, it's crucial to understand the variations of keywords for better rankings.
One problem is that keywords might exist in other nations in entirely different languages. However, there's also chance that the terminology will vary among nations that share a language. This is when things could become a bit challenging.
SEO services including link building from an expert SEO agency or freelancers can help you optimize your website for the targeted keywords without having to worry about different terminologies. SEO experts better understand the differences in keywords across international markets.
Understanding Local Cultures And Adapting Relevant Topics
The content or information on your website should be relevant to the targeted audience. The choice of topics should be in accordance with their interests. SEO is not only about ranking on the first pages of SERPs but delivering useful content according to the specific culture.
For example, a British audience might not be interested in facts or news relevant to the Middle East region. Thus, delivering tailored material considering the interest, preferences, culture, and background of your audience matters the most while making SEO efforts for international expansion.
Converting Images, Web Content, And Currency Into The Local Language
Imagine your target audience getting stressed over translating your website content through Google or another machine translation solution. Localizing your website content, images, graphics, charts, and language will maximize the user experience and increase engagement on your website.
Engagement factors such as bounce rate and time on page are signals that search engines use to determine how relevant your content is and whether to serve it up in the SERPs in the future.
Final Thoughts
Getting your foreign SEO done properly takes a lot of time. A company must first understand the concept of SEO for the international audience if it wants to grow internationally.
You might benefit from this decision in the future if you make the effort to provide amazing experiences for your overseas clients. In addition, ensure that your updated content has hreflang tags so that it ranks high in foreign languages.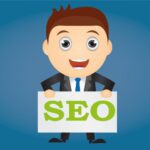 I'm a lover of all things technology. My favorite topics to write about are web design, SEO, and business marketing.