Last updated on November 27th, 2023 at 09:49 pm
---
Websites are fun & creative. Cinnabons are not.
Cinnabons are amazing. If it weren't for the fact that I actually try to stay healthy, I'd eat them all the time. The smell, the flavor, the texture – you can't beat a fresh hot Cinnabon. But you know what's even more tempting than a delicious, buttery, cinnamon-soaked pastry? Websites.
Over the past few years, I've found myself becoming addicted to building websites. I run many sites for local businesses and bloggers. And as much as I love cinnamon buns, I think I love websites even more. I mean you can't eat them, but let's compare for a moment.
Websites Won't Make You Fat
Well, I guess if you sit around all day working on websites and never get up, you might get fat. But it's not a guarantee. However, if I ate all the Cinnabons I wanted, I'd never be able to exercise away all those extra calories. It would simply be impossible.
Websites Have More Variety
Sure there are plenty of different varieties in a Cinnabon, but it pales in comparison to the variety of websites out in the wild. Cinnamon buns can have different types of butter, flakiness, some have icing and others have glaze… but compared to websites. I mean come on – You've got raw HTML, WordPress, Joomla, and a host of other platforms. In addition to that, you've got hundreds of proprietary platforms from providers like SquareSpace & Wix. A Cinnabon simply doesn't compare.
Websites Might be Cheaper
Believe it or not, if you build a site yourself on a shared hosting plan it might cost you less than that dollar-a-day Cinnabon habit. Websites generally aren't free, but they don't have to be super expensive either. Only if you hire a professional web designer will it cost you big bucks.
You Don't Have to go to the Store to get a Website
You can get a website without leaving your own house which, cannot be said for the delicious Cinnabon. Websites are highly available and you can surf or build them all day long without ever leaving your chair. The Internet has billions of websites – get surfing and enjoy (but skip the Cinnabon).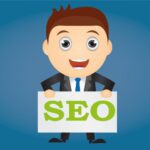 I'm a lover of all things technology. My favorite topics to write about are web design, SEO, and business marketing.