Last updated on October 4th, 2023 at 11:07 pm
---
The days of 'build it, and they will come' are over. Marketing is now everything.
Once you launch your digital business, all you want is to accelerate growth through marketing. Word of mouth can only get you so far, which brings the need to reach a larger audience. Fortunately, there are a plethora of marketing strategies you can use to achieve your objective.
The following are helpful tips you can use to grow your digital company through efficient and cost-effective marketing:
1) Social Media Engagement
Social media is an effective marketing tactic for businesses. Social media networks such as Facebook and Instagram employ deep customer analytics as well as data insights, which allow you to find customers who fit your ideal client profile and target your marketing to this audience.
Furthermore, social media is essential for reputation management. You can lose customers because of negative posts or unfavorable comments. Because of its effectiveness and low cost, social media should be your first choice if you had to choose only one tactic.
You can also utilize social media management software to manage your presence. With one software platform, you can quickly post content on several social media sites simultaneously and receive notifications, which can help you to respond to comments or address negative feedback quickly.
2) Business website
Your website gives your business the foundational marketing platform to reach today's digitally-driven consumer. It educates your customer on what you offer, and what they should buy from you. It is also a destination for consumers who arrive from online strategies, including Google search or email marketing. You can choose several options to set up a website without requiring technical knowledge. Moreover, it's possible to get premade websites with website support, which makes your job easier.
To improve your marketing efforts through your website, ensure it incorporates SEO because many customers rely on search engines such as Google to find digital businesses such as yours. Also, ensure that it supports mobile devices because everyone owns a phone these days for multiple tasks, including researching businesses.
The prevalence of mobile devices tells you that your website should work correctly on mobile phones, more than any other device. Also, consider using a content management system to deliver a professional look.
3) Google marketing
Most people know Google as a search engine, but you can also use the company for marketing. You can reach a large audience at a reasonable cost, so it is an excellent option for small businesses. Google has two main marketing options, Google My Business and Search Engine Marketing (SEM).
With Google My Business, you need to provide Google with business information that they will use across their products, such as the search engine and Google Maps services. This helps your business to reach a broad base of users. With SEM, you pay for text ads that appear above Google search results, but you only pay when a consumer interested in your business clicks the ads to visit your website.
Make sure you weigh the pros and cons of the above marketing options. Also, investigate other advertising capabilities such as click-to-call. These can increase calls to your business, allow you to run banner ads on millions of websites outside Google, and opportunities to drive customers to your physical store by buying ads on Google Maps. The best thing about using Google's marketing options is that you can set any budget that works for your business.
Final Thoughts
There is no one answer to fix all in marketing. It is a process of experimentation, so you need to pick a strategy and test it. You can measure the results using metrics such as ROI to see if you have achieved your goals.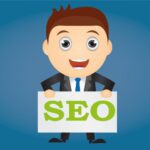 I'm a lover of all things technology. My favorite topics to write about are web design, SEO, and business marketing.